Kalamandalam Ravi Kumar
Kalamandalam Ravi Kumar was
born on May 12, 1970. His father is N. Sreedharan Achari and mother is K. Lakshmi Kutty. He learned Kathakali from the 7th itself. After passing SSLC, he joined Kalamandalam from 1989 to 1996 in 'Thekkan Kalari'. Now working as teacher of Kerala Kalamandalam in temparary post. His expertise is in "Kathi", "Thadi", "Vellathadi" characters. Has received Boland Gold Medal, Vallathol Scholarship, Calcutta International Award and Vazhenkada Kunchu Nair Award.
Family: Father, mother, one brother and one sister.
Contact Details:
Kalamandalam Ravi Kumar
Lakshmi Bhavanam
Karingannoor (P.O),
Oyyoor, Kottarakkara
Kollam 691516
Kerala, INDIA.
Kalamandalam Ravi Kumar as Keechakan in Keechakavadham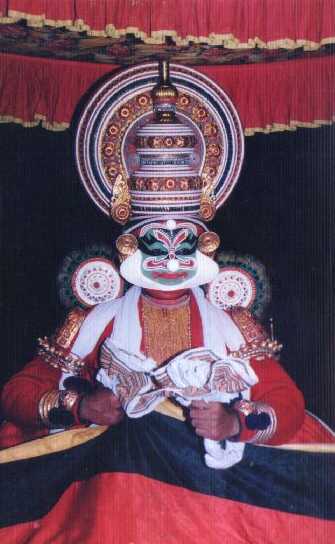 » Next Artist
Kathakali Actors | Kathakali Singers | Chenda Artists | Maddalam Artists | Chutti Artists | Chamayam Artists
[Kathakali] [About Kathakali] [Evolution] [Props, Rituals and Customs] [Mudras] [Navarasam] [Photos] [Artists] [Videos]