KOODIYATTAM
Koodiyattam, also spelt Kutiyattam, Sanskrit drama performed in Kerala, India,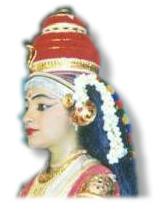 has been recognised by UNESCO as a Human Heritage Art. Rightly so. It is the oldest existing classical theatre form in the entire world, having originated much before Kathakali and most other theatrical forms. It is considered to be at least 2000 years old. Kulasekhara Varma Cheraman Perumal, an ancient King of Kerala was known as the creator of Koodiyattam in the present form. His book "Aattaprakaram" describes various aspects about how to perform Koodiyattam. Till date this is considered the most authoritative work on the art form. The "grammar" of performance is entirely based on the stipulations of "Natyashasthram" by Bharatha Muni, the most authoritative book on the science of acting. Traditionally, Koodiyattam is presented by "Chakyars" (a sub caste of Kerala Hindus). The female roles went only to "Nangyars" (Women of Nambiar caste). The name 'Koodiyattam' (combined dance form) came because it is the combined performance of Chakkyar and Nangyar. The only musical accompaniment used to be "Mizhav" played by Nambiar men. Of late, Idakka also finds a place beside Mizhav. The photographs given in the following pages are from 'Soorpanakhangam' Koodiyattam and 'Jatayuvadham' Koodiyattam.
Soorpanakhangam Koodiyattam
Soorpanakhangam is based on a sequence in 'Ramayanam'. Soorpanakha, a Rakshasa woman came across Rama and Laskshmana while they were staying at Panchavati. Impressed by the elegant features of Rama, she transforms herself into a charming young lady and makes advances towards Rama. His outright refusal leads to raised tempers and Lakshmana disfigures her by cutting the nose and breasts. She reverts back to her demonic appearance and exits in a highly excited mood.
1. Sreerama and Seetha
2. Ammannoor Madhava Chakyar as Ravanan
3. Sreerama, Seetha and Soorpanakha
4. Usha Nangiar as Soorpanakha
5. Usha Nangiar as Soorpanakha
6. Venuji as Lakshmanan and Soorpanakha after the encounter
Jatayuvadham Koodiyattam
Jatayuvadham is a part of the drama "Aascharyachoodamani" written by Sakthi Bhadra Kavi. The story deviates considerably from the original Ramayanam text. For abducting Seetha from Panchavati, Ravanan and his Soothan (charioteer) disguised as Sreerama and Lakshmana. They made her believe that they were returning to Ayodhya. On the way Ravanan accidentally touched the Choodamani (a jewelled ornament Seetha was wearing on her head). By its magical powers Ravanan reverted to his actual form. The first scene in Koodiyattam performance starts when Seetha is horrified by the sight of Ravanan. She begs Soothan (disguised as Lakshmanan) to save her. Suddenly he also assumes his real form. Seetha becomes more frightened. Hearing Seetha's wailing, Jatayu (A bird who is a friend of Sreeraman) appears. He attempts to save Seetha. Jatayu fights fiercely with Ravanan, who cuts the bird's right wing. Seetha blesses Jatayu that he will not die before conveying the information to Sreerama. The drama ends with the exit of Ravanan and Soothan taking Seetha.
1. Seetha, Ravana and his Soothan on the way to Lanka
2. Jatayu hearing Seetha's wailing
3. Ravana's confrontation with Jatayu
4. Fighting between Ravana and Jatayu
5. Ravana catching Jatayu to cut his right wing
6. Seetha standing horrified seeing Ravana cutting Jatayu's wing
7. Jatayu falling
8. Jatayu falling down
9. Seetha blessing Jatayu
10. Seetha, Ravana and Soothan preparing to continue journey
11. Ravana and Sootha continuing journey to Lanka
The performers are Ravana (Kalamandalam Sivan Namboodiri), Jatayu (Kalamandalam Rama Chakyar), Seetha (Kalamandalam Anjali) and Soothan (Prasad). On the Mizhav are Kalamandalam Achuthanandan and Kalamandalam Easwaranunni. Thalam (Rhythm) is by Shailaja and Krishnapriya.
[About Koodiyattam] [Soorpanakhangam] [Jatayuvadham]