Handicrafts in Kerala is either hereditary occupation or practised by amateurs who has great interest in the art.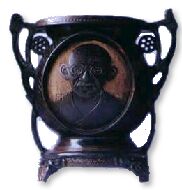 Kerala has the tradition of making beautiful handicrafts with ivory, bamboo, palm leaves, seashells, wood, coconut shells, clay, cloth, metals, stone etc. Many old handicraft classics can be seen in Palaces, old heritage homes, museums, etc. The artists are experts in making beautiful flower vases, ash trays, ornamental plates, jewel boxes, miniature boats, elephants, idols, kathakali masks, embroidery works, etc. The ornaments, head gears and costumes for classical arts and ritual arts are entirely made by artists expertised in handicrafts. They make all necessary materials for Kathakali, Theyyam, Mudiyettu, Koodiyattam, etc. They use the locally available turmeric, powdered rice, powdered leaves of Acacia etc. for making excellent colours and combination of colours for painting faces of performers, which is a very good example of handicrafts of Kerala. Rather than an art the handicrafts have evolved into a small scale industry in Kerala. The making, domestic selling and exporting are increasing and now there are many institutes giving training in handicrafts.
We are building a database of Kerala Handicrafts artists. One webpage will be made free for each artist and linked in this page along with below list of artists. If you are a Kerala Handicrafts artist or if you wish to recommend any artist, you can send the following materials to our email ID
. Valid submissions will be scrutinized, edited and placed in the site within 3 weeks.
Artist's passport size photo (JPG format, maximum 200 Kb)
An artwork photo (JPG format, maximum 400 Kb)
Three or four paragraphs of summarized text (electronic form, typed as plain text email or attached as txt or doc file) about artist's life and achievements in the field. The text shoud be as abridged as possible, 3-4 good paragraphs of most important things about the artist, in summary form, not listed form.
Contact details like postal adress, phone, fax and email ID.
Above materials to be sent to our email ID
Photographs of some Handicrafts