Kalamandalam Prasanth
Kalamandalam Prasanth was born
on May 22, 1965 in Thonnalloor, Kottayam District. His father is K.G. Krishnan Nair and mother is C.N.Rajamma. Had passed SSLC. He learned Kathakali from 1976 to 1980 under Kalamandalam Ramakrishnan and from 1980 to 1990 in Kerala Kalamandalam. Has passed Diploma, Post Diploma and scholarships. He practised Kathakali under many famous teachers namely Kalamandalam Gopi, Kalamandalam Vasu Pisharodi and Kalamandalam Balasubrahmanian. Has performed Kathakali in many stages of many important temples like Vaikom, Kaduthuruthy, Ettumanoor, Kalarcode, Panavanchi etc and other participations are Delhi Asiad in 1982, West Germany in 1986 and Bombay, Mysore, Ooty etc. His expertise is in "Pacha" and "Kathi" characters. Family: Wife Mrs. Sreedevi and one daughter Keerthana and one son Kiran.
Contact Details:
Kalamandalam Prasanth,
Kuzhikkattu Puthanpura, Thonnalloor,
Mevalloor (P.O), Kottayam (Dt) 686609
Kerala, INDIA.
Kalamandalam Prasanth as Arjunan in Kiratham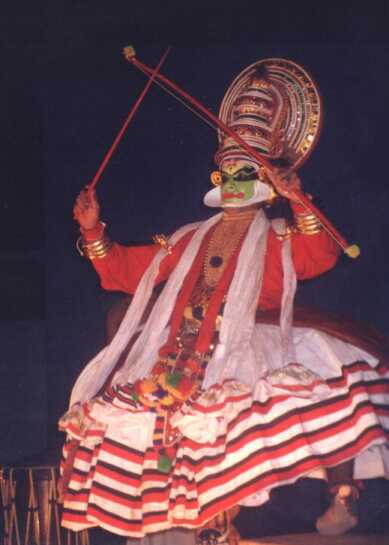 » Next Artist
Kathakali Actors | Kathakali Singers | Chenda Artists | Maddalam Artists | Chutti Artists | Chamayam Artists
[Kathakali] [About Kathakali] [Evolution] [Props, Rituals and Customs] [Mudras] [Navarasam] [Photos] [Artists] [Videos]