Kalamandalam Kochukuttan Nair
Kalamandalam Kochukuttan Nair was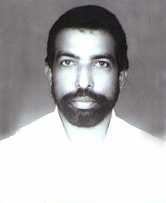 born on Jan 3, 1952. His father is Narayana Pilla and mother is Janaki Amma. After passing 7th, he learned Maddalam in Kerala Kalamandalam for 4 years. Has played Maddalam in many Kathakali performances. Has practiced under Kalamandalam Appukutty Poduval and Kalamandalam Narayanan kutty Nambeesan.
Family: Wife and two children.
Contact Details:
Kalamandalam Kochukuttan Nair
Polunnal House, Kareepra,
Kuzhimathikkad (P.O),
Kundara, Kollam 691509
Kerala, INDIA.
Kalamandalam Kochukuttan Nair during a performance

» Next Artist
Kathakali Actors | Kathakali Singers | Chenda Artists | Maddalam Artists | Chutti Artists | Chamayam Artists
[Kathakali] [About Kathakali] [Evolution] [Props, Rituals and Customs] [Mudras] [Navarasam] [Photos] [Artists] [Videos]